Detox and Shape Up for a Holiday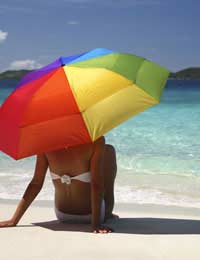 Shaping up for a summer holiday is an annual ritual for most of us, and one that tends to start all too late in the day. If you want to look great in your holiday snaps and give your body what it needs to cope with one too many beach bar cocktails, why not try a detox before you go.
Skin Deep
There's nothing like clear, radiant skin to make you look like a million dollars in your holiday photos. Even if you don't follow the perfect holistic lifestyle all year round, it's still possible to get that glow before you go. Start by ditching alcohol and caffeine, as well as fizzy drinks. Stick to mineral or filtered water and make sure you have eight glasses or around two litres every day. Dehydrated skin looks grey, tired and aged, and as the skin is the last organ in our bodies to benefit from the fluid we drink, most of us could do with upping our intake.
Exercise
If, like many, your main pre-holiday aim is to lose a few pounds, exercise and diet are key. Exercise not only helps to tone muscles and burn fat, but it also helps to oxygenate the blood and speed up toxin elimination. As a result you'll be slimmer, more toned and less bloated, as waste products are carried away from problem areas. All that blood pumping will also help you to keep your skin glowing, so aim for thirty minutes of exercise every day if you can.
Diet
Processed, refined foods and a diet packed with fat, sugar and salt can lead to weight gain, poor skin, cellulite, bloating – you name it. Cutting these toxic nasties out of your every day diet will do wonders for the way you look and feel. Eating organic, fresh and whole foods will help your body to better process existing waste build up and also help to keep future toxin intake down. Before your holiday, avoid wheat, dairy, red meat and eggs and make a note of any changes within your body. Food intolerances are common, and you might discover that by cutting certain foods from your diet, you feel and look much healthier.
Yoga
Holiday burn out is increasingly common as our stressed bodies finally get to relax. If you often get ill during a holiday, try relaxing your mind before you go. A happy, balanced mind is less prone to stress, which can lead to physical illness as your immune system suffers. Try joining a yoga class, or try meditation to help relax you. If you arrive at your holiday destination calm and content, you won't need to spend the first half of it winding down!
Brush Up
If you want to reduce the appearance of cellulite, banish bloating or smooth your skin before your big break, body brushing could be the answer. Said to aid detox by stimulating your waste elimination process, body brushing also does a marvellous job of exfoliating dead skin cells, leaving you polished and glowing. Try a massage too, to combat bloating and to stimulate detox from within.
Have a great holiday – relax, rejuvenate and don't forget to raise a glass (of fruit juice!) to your body and the great job it does to make you look and feel great from the inside out.
You might also like...