A Seven Day Detox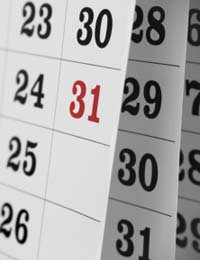 So you've tried detoxing for a day, or maybe a weekend, and now you're ready to move to the next level. A seven day detox plan is not for the faint hearted, but followed a few times each year, it'll have your body fighting fit.
Starter's Orders
A seven day detox takes careful planning. Scheduling is important – don't time your detox during a busy or physically demanding week, because you just won't feel like it. The early stages of a detox are likely to make you feel rather under par, with headaches common as your body learns to live without certain substances. You have been warned!
Supermarket Sweep
If the thought of visiting the supermarket midway through your detox sounds a little too much like temptation, it's time to do some serious stocking up. Make your list ahead of time and plan meals so you're ready for every day of the diet. If you're feeling deprived and grumpy at the end of a day, the last thing you'll feel like is devising dinner for one. Detox meal plans are widely available on the Internet, but creating your own will be fun. Also, remove all 'banned' food from your cupboards, and preferably your home.
What's In?
On a seven day detox plan try to ease yourself into the diet gently. You'll be more likely to stick to it for a full week, and you'll ease the side effects too. When shopping, choose lots of different whole foods - fruits and vegetables, mineral water (or buy a filter jug), fresh fish and lots of whole grains like rice and quinoa. As far as you can, buy organic produce to keep toxin intake to a minimum. If you don't have a blender or juicer, now's the time to buy or borrow one so that you can whizz up your own tasty, nutrient-packed juices.
What's Out?
Everything else really! Processed and refined foods, fizzy drinks, alcohol and caffeine are all off the menu for the whole week. Dairy and meat products should be avoided too, as our bodies find these difficult to digest. Also ban eggs and anything that looks like convenience food. You're aiming for food that's as close to its natural state as possible, so no sugary or salty foods for you.
What Else?
A detox isn't all about the body. Your mind will benefit from some love and attention too. Try yoga, meditation or simply rent some funny films and laugh your stress away. A stressed mind is known to affect the immune system, so make sure yours is helping to fight the detox battle by finding some 'me' time every day. Fresh air and gentle exercise is great during a detox, when you might not have the energy for strenuous physical exercise.
The key to enjoying a seven day detox is to make it work for you, and make it easy for yourself. Think up some appealing meal ideas and plan some activities that make you happy so that you're ready and full of enthusiasm to begin. When the seven days are up, try to retain some of the more straight forward aspects of the diet, and help your body to a happier life, long term.
You might also like...