How Do Detox Foot Patches Work?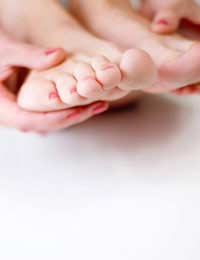 Detox treatments are becoming increasingly popular as more and more of us take interest in the damage that toxins do to our health. Best experienced in conjunction with a detox-friendly diet, these treatments claim to assist the body in drawing out impurities and waste, resulting in better general health and wellbeing. Two such intriguing treatments are detox acupuncture and foot patches.
Needlepoint
Acupuncture is an ancient traditional medicine hailing from the Far East that has been accepted in the Western world as an effective alternative medicine. Working with very fine, almost hair-like needles, an acupuncturist will identify where your life energy or qi is blocked and apply needles to the relevant areas. Traditional Chinese medicine dictates that when a body's qi cannot flow freely, lethargy and a range of illnesses can occur.
System Failure
Acupuncture does not seek to relieve or cure specific illnesses, but instead focuses on improving harmony and thus general wellbeing within the body. Poor nutrition, pollution and other toxins can all contribute to blocked qi, and by placing needles at certain meridian (energy) points, the body is encouraged to kick start its own healing processes as qi flows unrestricted through the energy channels.
Best Foot Forward
Detox foot patches are extremely popular in some parts of the world, particularly in Japan. A product of the Far Eastern philosophy of reflexology, detox foot patches are said to draw out toxins from your body while you sleep. Evidence that your detox is working is said to be proven by the brown colour of the patches after a night's wear, which fades a little more with each application.
Expert Advice
If you think detoxing while you sleep sounds too good to be true, you're not alone. Opinion is divided, with many experts claiming that toxins cannot possibly be drawn from the body through the feet, and that the brown colour is simply a reaction to the elements that make up perspiration. At best, say detractors, detox foot patches offer a placebo effect, working because the wearer believes strongly in the product's claims.
Supporting Act
Supporters of detox foot patches say they genuinely feel better after use, particularly after several nights of wear. More energy, mental alertness and a spring in the step upon waking are just some of the positive effects cited by foot patch fans. The products claim to promote better all-round wellbeing by helping alleviate headaches, lethargy and promote healthier skin.
Open Verdict
There are many alternative medicines and therapies that claim to assist our bodies with detoxification, and whether or not they really do work, it's likely that the relaxing nature of the treatments alone will benefit a tired or stressed system. One thing is for sure, the debate will roll on and on. If you're game to try a treatment or product for yourself, make sure you visit a reputable practitioner or retailer for best results.
Remember that one of the best ways to help your body to detox is to drink plenty of water and feed your system with fresh, whole and organic food. As the saying goes, you are what you eat - not what you stick on your feet.
You might also like...