Lazy Detox Ideas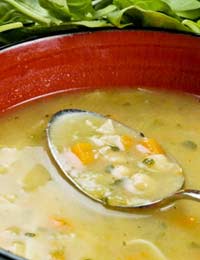 If you're the type of person who gets pleasure from pampering and for whom pennies are plentiful, a lazy detox might appeal.
Though you can't escape the fact that you'll need to prepare meals; on a detox plan like this, you won't need to do a lot else. Read on for our tips for a lazy, luxurious detox.
Detox Delivered
Can't face trekking round the supermarket to gather your detox-friendly foods? Why not make your list and shop online for a lazy way to stock up on lovely fresh produce. Almost all of the major supermarkets now offer home delivery, and if you'd rather put your feet up than do battle in the aisles, this is the best no-effort way to get your detox off to a flying start.
Ready Made
If you love nothing more than sipping a cold, fruity smoothie but can't bear the thought of blending your own, add some of the freshly made supermarket brands to your online shopping list. Avoid those packed with sugar and additives and go for those packed with the maximum amount of nutrients and vitamins.
Absolutely 'Souper'
Alright, so making soup does take some initial effort, but if you make a batch you'll have enough to last you throughout your detox. There are some great recipes available online, and soups give you the opportunity to add variety by including different favourite ingredients each time you reach for a bowl. Different vegetables, herbs and sprouts will make a new meal every day.
Pamper Day
A long, luxurious massage is said to help the body's natural detox processes. Whether or not this is true, massage is a good way to relax your muscles and invigorate your skin, and it couldn't be less physically demanding. Why not combine your treatment with a spell in the steam room to prepare those pores? Colonic hydrotherapy, said to cleanse and clear the bowel, is less than luxurious but still requires minimum effort.
Kip and Cleanse
Detox foot pads really are the lazy way to cleanse. Fans of foot pads say toxins are drawn out of the body through the soles of the feet during the night while you sleep. In the morning, brown stains, it is claimed, are evidence that the detox has been successful. Could there be a lazier way to detox?
Yoga Bunny
If the thought of physical exercise is a little too much like hard work, yoga can be an ideal alternative, proving beneficial for mind and body. The postures held during a yoga session help to strengthen muscles and massage the internal organs. This is said to help the progress of lymph fluid around the body, helping to collect up toxins and deliver them to our waste removal organs. Many yoga fans also notice an improvement in cellulite, too!
As with most things in life, you'll get from a detox what you put in. That's not to say you can't do it the lazy way, but remember that detoxification is ultimately geared towards getting your system moving!
You might also like...