New Year Detox Plan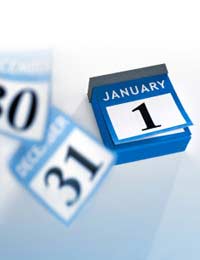 With the average person consuming a massive seven thousand calories on Christmas Day alone, it's no wonder that by the time January arrives many of us feel a serious need to detox. Find out how you can start as you mean to go on this New Year.
Last Orders
Of those seven thousand calories a significant proportion will be attributed to excess alcohol. Even a small glass of wine contains around one hundred calories, so it's easy to see how one too many celebratory glasses of champagne can add up. Putting an enormous strain on the liver and kidneys, drinking to excess will leave your body horribly dehydrated, meaning your natural detox efforts will be scuppered. During your detox, skip alcohol completely, sticking to a healthy eight glasses of water every day. You'll notice a big difference in your mental and physical wellbeing in a short time.
Get Out More!
After a no holds barred Christmas season you'll no doubt have gained an extra few pounds. To get your body in optimum detox mode and stimulate your mind during those dark January days, take regular exercise as often as you can. Cardiovascular fitness will keep your circulation working efficiently, meaning your blood can carry more essential oxygen to your cells, as well as delivering toxins and waste to the organs responsible for their elimination. Aim for thirty minutes every day and you'll soon benefit from a healthier and slimmer physique.
Matters Of The Mind
While you're taking care of your body's detox, remember that your mind, too can benefit from some TLC. To combat stress or tension try regular yoga or meditation classes as first foot on the road to inner harmony. Not only will you feel mentally balanced, but the poses you'll be performing in a yoga class will massage your internal organs and stimulate your natural detox into action. Meditation can be a great natural way to combat depression and anxiety, now such common demons of everyday life.
Diet To Detox
Diet is a hugely important weapon in the war against accumulated internal waste. Toxin build up from food additives, pesticides, processed foods – to name a few – can be attributed mainly to a poor diet. Eating fresh, organic and whole foods (think as close to their natural state as possible) will feed your body with the essential vitamins, minerals and enzymes it needs to keep you in tip top condition. During your detox period avoid red meats, dairy products, eggs and any refined and processed foods. Also cut out salt, sugar and all fizzy drinks. Think plenty of fresh fruit and vegetables and whole grains to get your digestive system working.
Treat Yourself
Detox treatments are becoming increasingly common, from massage which stimulates the lymphatic system, to colonic hydrotherapy, which promises to clear and cleanse your large intestine and colon of years of accumulated waste. Treatments are a great complement to a detox diet, and regular relaxing sessions will pay dividends for both body and mind.
There are lots of ways you can help ease your body into the New Year. This year, why not make yourself a resolution to be healthier and happier all year round.
You might also like...