Detox: Foods to Avoid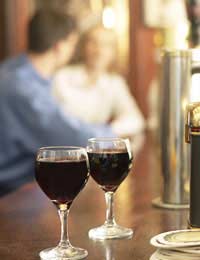 If you're trying your first detox diet it's essential to know what you should and shouldn't eat. Depending on the extremity of your detox, the list of banned foods can be long. The foods below are the main items you should leave out of your shopping trolley during your detox.
Last Orders
Call time on alcohol while you detox and give your liver and kidneys a break. Alcohol is a poison that our bodies struggle to process, and it's also a diuretic. That hungover feeling is due to the dehydration suffered by your system after excessive alcohol intake. Give coffee and tea the cold shoulder, too and let your body adjust to existing without caffeine. Fizzy drinks and sugary squashes should also be on your banned list, and that includes the so-called 'diet' alternatives.
Wheat A Minute
All foods made with wheat are off the menu during your detox, and that covers a surprising number of foods, from bread to cakes to battered foods. Wheat contains gluten to which many of us are intolerant, causing a number of conditions, from skin complaints to Crohn's disease. Detox dieters often find that by cutting out wheat their symptoms calm down or even disappear completely. Going without wheat will take some planning, but your body will thank you for it.
Meaty Issues
Organic and free range or not, meat should be avoided on a detox diet. Meat contains difficult to digest enzymes that mean it can hang around in our systems for longer than is desirable, causing our digestion to become blocked by mucus. In addition, meat products like burgers and sausages often contain large amounts of fat. Some studies even claim that eating red meat can contribute to colon and prostate cancer.
Ready Made
When you're shopping for a detox diet, leave ready meals, processed foods and sauces on the shelf. These foods can be jam-packed with artificial colourings, flavourings, chemicals and other toxins, not to mention a lot of sugar and salt. Think fresh, natural and whole - grown, swum or flown is a good general rule of thumb where choosing foods is concerned. This way you'll be better able to see exactly what you're eating, and more importantly, what you're not.
Sweet And Savoury
Sweets, ready-made snacks and crisps are also off the menu. Think sugar, trans-fats and large amounts of salt, coupled with flavourings and colourings too. Without these you'll not only help your body's natural detox processes, but you'll lose weight too!
Cold Snap
The chilled section of your supermarket holds many of the foods banned during a detox. Dairy products should, generally speaking, be left off your list, with natural live yoghurt being the exception. Add to that eggs, and butters and spreads.
Avoiding these foods will give your body a great start on a detox diet. If the list looks a little long and restrictive don't forget that there's a whole world of new fresh, whole foods out there waiting to be discovered as you embark upon your first detox.
You might also like...