Detox-friendly Foods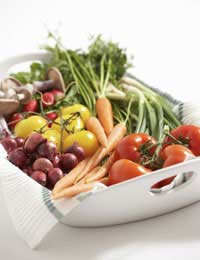 If you've decided to try a detox diet, the chances are you'll be well aware of all the foods you'll be bidding goodbye for the duration. If you're already missing that after work glass of wine, why not concentrate on what's on rather than off the menu...
Freshen Up
Yes, you've guessed it – fruit and vegetables are going to be the mainstay of your detox diet. Take the opportunity to try new ones, and prepare them in different ways to add variety to your diet. Opt for organic produce to avoid adding the very toxins that your diet is designed to remove.
Drink Up
Water is an essential detox diet ingredient, so make sure you're drinking your eight glasses or two litres every day. If you need a little more than water to keep you going, try making your own juices and smoothies from raw fruits and vegetables. It's easy to do, and you can be completely creative with your recipes. The nutrients in raw fruit and vegetable juice are very easily absorbed by your body, and you'll be giving yourself a powerful enzyme boost.
Going Nuts
Nuts and seeds (the unsalted varieties) make fantastic snack ingredients and can also be added to salads and stir fries for an extra hit of goodness. Nuts contain healthy fats, protein and antioxidants; and snacking on seeds will raise your levels of zinc, essential fatty acids and lots more.
Gone Fishing
Without meat or poultry you might be forgiven for wondering how you will ever be satisfied on a detox diet. One of the answers is fish. Fresh and organic, fish is packed with protein and essential omegas, among many other detox-friendly nutrients. If you're traditionally used to the battered kind, try some new options, and remember that variety is the spice of life.
Fibre Fever
One of the easiest ways to ensure you remain full on a detox diet is to make sure you eat plenty of whole grains, like rice, quinoa or millet. Unrefined and natural, these grains are packed with fibre and will help to cleanse and clear your digestive system. Slow release carbohydrates mean you will stay satisfied for longer after eating, with enough energy to keep going until your next meal.
Bean And Gone
Beans are thought to help lower cholesterol and fight against cancer, so it's well worth including some varieties in your detox diet. Some types of beans will require soaking overnight, but the health benefits will make your forward planning worthwhile. Try adzuki or kidney beans for a great change from the tomato sauce-covered baked option.
Add To Taste
Without sugar and salt you might find that some meals taste bland, so it's a good idea to stock up on alternatives. Try ginger and garlic in stir fries and soups, and add herbs to salads. If you have a sweet tooth, try a drizzle of honey on porridge oats or natural live yoghurt.
Detox diets ban many foods, but they also encourage us to eat many others. Be adventurous – your body will enjoy the change!
You might also like...