Drink Water to Detox Your Body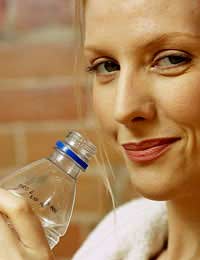 Our bodies are made up of around seventy percent water, and it's perhaps the most important tool in our natural detoxification process. Most of us do not drink enough, but if you make a conscious effort to stay sufficiently hydrated, you'll really notice a difference.
Enough Is Enough
Unless you know how much water your body requires on a daily basis, it's hard to be sure if you're drinking enough. General opinion is that two litres or around eight glasses per day will give your body sufficient water to work with. Although advice is conflicting, many nutritional experts recommend that you do not substitute water for tea, coffee or soft drinks. Caffeinated drinks will actually dehydrate you further, meaning you need to take in extra water for every one you have.
Water, Water Everywhere
Don't just think about how much water you drink, but also consider its source. Tap water is your cheapest and easiest option, but quality can be poor. Impurities and toxins often found in tap water range from chlorine to pesticides, so stick to bottled mineral water, or buy a good quality filter to keep at home. If you filter your tap water you'll probably notice a taste difference at once.
In The Blood
Water helps to keep the blood sufficiently hydrated, meaning it can be pumped around your body more easily. The less water you drink, the thicker your blood becomes. This means your body needs to work harder at efficient circulation, making you feel tired and drained as a result.
Clear And Cleanse
Water is required by every one of our cells, delivering nutrients around the body as well as helping to flush out waste and toxins. Your digestive system needs water to function efficiently, and a lack of it can lead to constipation and worse. Helping to keep the natural mucus defence mechanism of our lungs and gut hydrated, drinking water really can help to keep illness at bay.
Care For Your Kidneys
Water is essential for our liver and kidneys to process and eliminate waste, which we know as urine. If your body does not get enough water, you will produce less urine, making it difficult for your system to detoxify. A prolonged lack of water can result in painful urinary tract complaints, as bacteria flourish inside the bladder. Worse still, kidney damage can result.
Brain Power
It's no coincidence that when you feel dehydrated, you also feel mentally sluggish. Not drinking enough, or consuming excess alcohol will severely dehydrate the body and the brain - that morning after hangover is almost entirely due to the lack of fluid within the body. Our brains rely on water to run our systems, and when there is not enough, you will quickly notice physical effects.
Water is essential for keeping every organ in your body happy and healthy, and by upping your intake, you'll feel and look much improved. If more energy, greater mental clarity, fewer days off sick and glowing skin sound good to you, it's time to drink up.
You might also like...