Everyday Detox Tips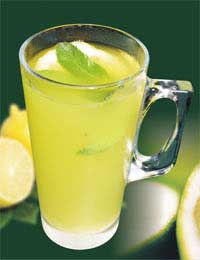 Many features of a detox diet translate easily into everyday life, bringing long term gain for very little pain! If you are prepared to make a few changes to your lifestyle, why not start sooner rather than later? Your body and mind will thank you for it!
Love Your Liver
Admittedly this tip may take a while to get used to, but you'll be glad you made the effort. Tomorrow morning, forget waking up to a cup of tea or coffee and instead squeeze the juice of half a lemon into a cup of hot water. Not only will you get little hit of vitamin C, but your liver will get the best morning wakeup call of its life. Caffeine is no friend of your body's natural detox processes, but cleansing hot water with lemon will have your digestive system moving in no time.
Be Creative
For a tasty, organic breakfast why not try making your own juices or smoothies? Opt for organic fruits and vegetables, and experiment with your favourites to make a filling, and very healthy alternative to shop-bought products. Many supermarket varieties are packed with extra sugar and additives, so by making your own, not only will you know what's in and what's out, you'll also be able to get closer to your recommended 'five a day'.
Glass Half Full
One change for the better that we can all make to our diets is to drink more water. Every cell in your body needs water to work properly, and drinking a sufficient amount will keep your organs and bodily processes functioning normally, and your natural detox running smoothly. If that's not inspiration enough, remember that drinking more water can also lead to clearer skin and can help to ward off the signs of ageing!
Plate Up
Many experts say that where our bodily health is concerned, we get out what we put in. The old adage 'you are what you eat' is very true, so make sure that you fill your plate with only the best, and freshest whole foods. Eating organic produce is a great step towards a healthy diet, but by ridding your supermarket trolley of refined and processed foods, and those containing trans-fats, you'll be well on your way to food heaven.
Get Out!
Take regular exercise to keep your circulation moving, ensure that your muscles are strong and that your lungs are being used more efficiently. All three are key to effective detox, so make sure you put some time aside each day to get physical. Even a brisk walk will be enough to get your blood pumping, as evidenced by that rosy-cheeked glow.
Scrub Up
Using a dry body brush each morning can help to improve circulation and stimulate the lymphatic system into action, not to mention exfoliating away all those dull dead skin cells. Start from the feet and work upwards in the direction of your heart. Along with moisturisation, body brushing is a great way to keep your skin looking and feeling fantastic.
Just Say No
Saying no to nicotine and alcohol will bring enormous health benefits, both long and short term. Stop smoking and limit your alcohol intake, making sure you have at least one alcohol-free day a week. Alcohol and nicotine are both toxins, and without them our bodies are able to function and regenerate much more happily.
Detox can be a great short term way to cleanse and clear your system, but for a long and happy life, long term lifestyle changes are the way to go.
You might also like...