Detox Your Way to a Fitter Immune System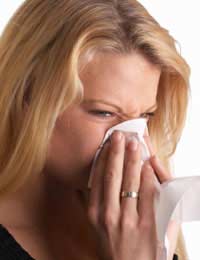 A strong, healthy immune system depends on a toxin-free body to keep us free from illness, and there are many ways in which you can give yours a helping hand.
Love Your Liver
The liver has a huge part to play in our natural detoxification processes. As our bodies are bombarded with poisonous substances, from pesticides to alcohol, it's the primary job of the liver to detoxify and process these materials as waste. If our systems are overloaded and clogged with toxins, the liver may have trouble working properly, leading to lethargy, and eventually illness.
Lymphing Along
Along with the liver, our lymphatic system is also responsible for detoxifying the body. Our natural method of waste disposal, the lymphatic system relies on us to remain fit and active to do its work, and when it is not able to cope, physical symptoms may result.
Help Yourself
By exercising, eating a healthy diet and doing all you can to stay fit and healthy, you'll give your immune system a fighting chance at health and happiness. Even if a detox diet is not something you can work around your life, following some sensible detox principles will help to keep you in tip-top condition.
Dietary Matters
Many of the toxins that can slow down the body's natural waste elimination come from the foods we eat. Try to stick to fresh, organic fruit and vegetables and banish processed and refined foods from your supermarket trolley. It's easy to make tasty and nutrient-packed juices to replace all those cups of tea and coffee, so experiment with your favourite flavours and help yourself on your way to your five a day.
Drinking Games
If you wish to detox, alcohol is very definitely banned. Instead, make sure you drink enough water to keep your body hydrated – about eight glasses per day is fine.
Water is used by every cell in your body to keep your system in perfect shape, and without enough, your natural detox processes will not work efficiently. Drinking water is an easy and cheap way to give your body's diet a kick start, and a cup of hot water with the added juice of half a lemon will wake up your system every morning.
Work It
Exercise is essential for keeping our bodies moving, both inside and out. Regular cardiovascular exercise will get your blood pumping around your body, delivering oxygen to every cell in your body and releasing endorphins – happy hormones to help detox your mind, too. Try to build thirty minutes of exercise into your daily routine – so much the better if some of that is out in the fresh air.
If you find you're catching every cold going, or you're always the first to fall victim to that office bug; try making a lifestyle change for the better and give your body a helping hand to detox. Not only will you have more energy to fight off those irritating little ailments, but you are likely to find you look great into the bargain!
You might also like...