Detox for Beauty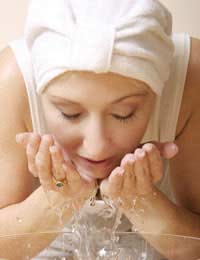 We humans are a vain bunch, and there's nothing like the promise of looking fantastic to send many of us into detox overdrive. Take a look at these tips and tricks to keep skin clear, eyes bright and compliments flooding in.
Good Skin Sense
Our skin is the largest organ in our bodies, and around ten percent of our systems' waste leaves through it. Needless to say, the better we care for our skin, the better it will look, and a detox is a great place to begin.
There are lots of ways to detox the skin, but none will have the desired effect without the backing of a healthy diet of fresh, whole foods. Ditch refined, processed food packed with sugar and fat, and abstain from alcohol and smoking for the duration of your detox. Our bodies cannot process these toxins easily, and the condition of our skin can often show it.
Start Strong
During your detox, and beyond if you can, give your morning cup of tea or coffee the heave-ho and switch to hot water with the added juice of half a lemon. Not only will it not stain your teeth like coffee and tea, this drink will kick start your liver into detoxifying action and give your digestive system a boost. If your internal detox is working, your skin will glow.
Water Baby
As bored as we all are of hearing that we should drink more water, it's the easiest (and cheapest) way to give your skin a boost. The water we drink is delivered to organs around the body, and our skin gets what's left. If you don't drink enough, that may be very little. Eight glasses of mineral or filtered water a day will be sufficient to keep your skin smiling.
Work It
Exercise has a big part to play in detox. Cardiovascular activities get the blood and oxygen pumping around our bodies, helping our cells to perform efficiently. Think of that healthy, rosy glow that comes from a brisk walk, and make some time in your daily routine to get moving. Not only will your skin look better, but you'll tone up and give your mood a beneficial boost, too.
Brush Up
Dry body brushing is thought to stimulate the circulation and the lymph system, enabling the skin to better eliminate toxins. Dead skin cells sloughed away, glowing skin is revealed, and you may even notice a reduction in cellulite too. Body brushing is an inexpensive and simple way to give your system a morning wake up call.
Best Face Forward
If your skin's still screaming out for attention, think about what you put on, as well as into, your body. Use a clay mask regularly to draw out toxins and excess oils, and switch to light, skin-friendly mineral make-up to avoid clogging pores. Better still, put on your daily sunscreen and go make-up free!
Glowing skin, strong nails and shiny hair are all the fantastic products of a good, healthy lifestyle. If yours need a little help, try a detox to get you on your way to a body beautiful.
You might also like...