Detox for Better Health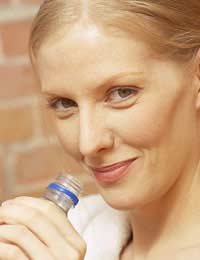 Although there is no scientific evidence that detox will improve your health on a long term basis, there are many people who disagree, maintaining that regular detox combined with a healthy lifestyle brings many benefits. If you enjoy your first detox, the chances are you'll be happy to adopt some of its principles for life, thereby reducing toxin intake and helping your body to stay healthy for longer.
Allergy Away
One of the most popular health benefits of detox is that following a detox diet can help to alleviate, or even eliminate certain allergies. Many modern allergies are caused by intolerances to foods, with wheat and dairy among the most common. When we take such trigger foods out of our diets, our bodies often heal quickly, meaning complaints like eczema can improve.
Light Weight
Undertaking a detox diet is not a good 'quick fix' way to lose weight, though by cutting out sugar, fats and processed food, it's likely that you will slim down. Where detox can help long term weight loss is through education, helping to teach us the benefits of fresh, whole foods, and showing us how our modern diet and lifestyle can attribute to weight gain. During your detox you may try new foods, and lifelong changes may be made.
Aches And Pains
Detox fans believe that a body overloaded and clogged with toxins gives rise to frequent headaches and lethargy. If your digestive system is sluggish, you may also experience stomach aches and bloating, particularly after eating certain foods. By ridding the body of waste and kick starting our own internal process of waste removal, detox can rid you of those non-specific daily aches and pains.
Fit And Well
Regular detox might also mean you avoid the annual office flu, as your immune system becomes more efficient at fighting illness. Many detox aficionados say that they remain fit and well when others catch every cold going, so you may have to find another excuse for a duvet day this winter!
Kick The Habit
Some detox experts claim that a detox diet can help to 'reset' the body's dependency on certain substances, including sugar, salt and caffeine. Initially you may experience headaches and other complaints as your system protests at the deprivation, but given time, you may find you don't crave or even desire the same types of food.
Body Beautiful
Better health means better looks – if your internal detox system is working well, and you're getting all the vitamins and nutrients you need, your skin, nails and hair will look and feel fantastic. Congested, spotty skin can often be a sign that something is amiss inside, so by giving your body a boost you'll really be putting your best face forward. Our hair and nails are some of the first places we show poor health, and can be a great measure of overall wellbeing.
Detox may help improve your looks, health and even your mental clarity, so find a detox diet to suit you, and take your first step to a healthier lifestyle.
You might also like...