Nutritional Supplements and Detox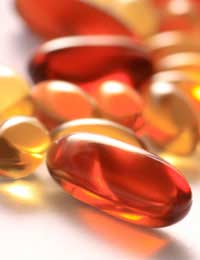 Expert opinion is divided over whether or not nutritional supplements are a necessary or desirable addition to a detox diet. If you are considering spending your hard-earned money on supplements, make sure you're aware of what you'll be putting into your body when you pop that pill.
Insider Information
The many different brands of detox nutritional supplements contain a range of natural ingredients, including probiotics and herbal and plant extracts. Common contents include milk thistle, said to help cleanse the liver, with some varieties containing the vitamins and minerals we associate with a healthy diet.
Promises, Promises
Detox nutritional supplements claim to benefit the body in a number of different ways. Promoting a healthy bowel and gastrointestinal system, helping to ease digestive ailments and rid the body of toxins and waste are the primary advantages, according to manufacturers, with the combined effect assisting our natural detoxification processes.
Money For Nothing?
Detox nutritional supplements can be costly, with a relatively small amount of a product being sold for what may seem like a disproportionate price. It's a good idea to view expensive products with caution; indeed, many experts advise that any amount spent on these products is simply money down the drain, particularly those which don't contain any recognised vitamins and minerals. There is increasing concern that supplement manufacturers are cashing in on the growing enthusiasm for detox, with little regard for the nutritional quality of their product.
Health And Safety
If you decide to purchase nutritional supplements, first make sure you know exactly what you'll be putting into your body. Some research has shown that so-called beneficial ingredients can actually have a harmful effect on the body when taken in large doses. Also, if you are taking prescription medication, or if you have been diagnosed with a serious illness, certain naturally occurring substances may do more harm than good. Be sure to do your research and consult a medical professional before you buy.
The Meal Deal
Medical and nutritional experts alike prefer to extol the virtues of a healthy, varied diet for efficient detoxification, rather than powders or pills. One way you can guarantee the quality of what you put into your body is to ensure you eat a range of fresh, organic and whole foods, washing them down with a thirst-quenching eight glasses of mineral or filtered water a day. You really are what you eat, and though you shouldn't expect to feel or see differences overnight, a vitamin-packed diet will soon work its magic both inside and out.
Leave It Out!
If you are about to try your first detox diet, it's a good idea to think about what to leave out of your diet, rather than what you add to it. Taking detox nutritional supplements, whatever they promise, will be money wasted if you don't kick your caffeine, alcohol and nicotine habits for the duration of your diet. Ban all processed and refined foods in addition to following dietary advice for your particular plan.
Whether or not you decide that supplements are for you, always be aware of what you are buying, and remember that there's no substitute for a healthy diet to help you look and feel fantastic, during your detox and beyond.
You might also like...