Detox for More Energy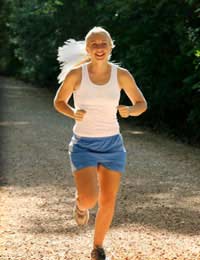 If you regularly feel tired, sluggish or you've simply lost your get up and go, a detox diet might be the answer. A body overloaded with chemicals will not be able to effectively process toxins, and therefore your system may grind to an energy-depleting halt.
Wakey Wakey!
To combat lethargy and spur your natural detoxification in to action, opt for a zesty cup of warm water and lemon in the morning, instead of your usual coffee or tea. Thought to stimulate the liver, the organ most responsible for our internal detox, this caffeine-free cuppa will give your system a wake up call every day, getting the digestive system moving, and cleansing you from within.
Freshen Up
By removing toxin-laden foods from your diet, your system will be freer to go about its business, giving you more energy and promoting wellbeing. On a detox diet, you'll be eating plenty of fresh, whole foods, free of the pesticides and additives that can clog us up.
Excess salt, sugar, trans-fats, caffeine and nicotine all take a huge toll on our natural detox process, so by eliminating these from your diet, you'll be feeling a spring in your step before long.
Remember to drink eight glasses of mineral or filtered water each day to keep your body hydrated.
Move It
Exercise has been proven to assist the body in detoxification and regeneration, so put that gym membership to good use, or just get out in the fresh air for a walk. While you detox you may not feel like doing a lot of very physical exercise, but by building some into your life on a long term basis, you'll notice a big difference. Fitness experts say the more you do, the more energy you have – why not find out if they're right?
Early To Bed
If your system is suffering from toxin overload you may not be sleeping well, making everyday life that much more challenging. During your detox, try to go to bed at nine o'clock each night. This will give your body as much time to cleanse and revitalise itself as possible. During the night is when our body has the most work to do, repairing cells and strengthening the immune system. Getting sufficient sleep is one of the best ways to avoid illness and remain fighting fit.
Slow Down
Use your detox time to treat yourself gently, building in time to relax. Read your favourite book or laugh out loud with friends - switch off in any way that works for you. It's all too easy to feel guilty if we're not being 'productive', but during a detox, let yourself wind down so that your body can get to work from the inside out. If your mind is energised, there's a very good chance your body will be, too.
Suffering from a lack of energy can affect your work, relationships and happiness, rendering you unable to enjoy life to the full. It may be that a detox diet could be the answer, and making changes to your lifestyle long term, too, will have an amazing effect on both mind and body.
You might also like...