Who Benefits from a Detox?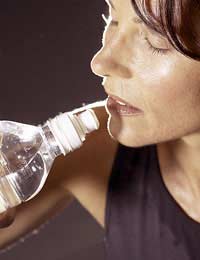 Detoxification is believed to help alleviate and even cure a range of conditions and complaints. By deep-cleaning your system from the inside, a detox diet can flush out existing toxins and better prepare your body to detoxify itself. If you've been under the weather lately, feeling tired and catching after cold after cold, read on.
Under A Cloud?
Feeling generally tired and unwell, with greater susceptibility to illness can be a sign that your body is struggling to process toxins. Colds, allergies and headaches can all be caused by a depleted immune system, caused by a lack of nutrients.
Boosting the body with a detox diet can kick-start your system into action, building up strength and giving you much needed energy. Allergy sufferers may find that by including or excluding certain foods, they can significantly reduce or cure sensitivity.
All Puffed Out?
Smoking or drinking excessive alcohol means your body will be screaming out for a detox. Barely a day passes without a new study being published on the effects of alcohol on the body. Severely affecting liver function, even social drinking can impact on our ability to eliminate toxins from within.
We are all aware of the dangers of smoking, yet many people struggle to kick the habit and wonder why their body doesn't perform as well as it might. Nicotine could be called the ultimate toxin, and any detox diet should begin with stubbing out those cigarettes!
Digestion In Question?
If you suffer from digestive complaints, such as IBS, a detox diet can really help to regulate your system. Processed and refined foods, sugar and 'bad' fats all take their toll on the digestive system, leaving it unable to cope and allowing bacteria to build up. A detox diet including fresh, organic foods and plenty of water will help to flush out toxins and relieve bloating, pain and irregularity. For a digestive kick-start, many people applaud the benefits of colonic hydrotherapy, giving the colonic region a thorough if extreme clean.
A Weighty Issue?
Although the purpose of a detox diet is not specifically to reduce weight, it makes sense that by ruling out processed foods, saturated and hydrogenated fats and sugar, you are very likely to shed pounds along the way. A diet high in these offending ingredients not only increases weight, but severely clogs the system, and is likely to mean that you are not ingesting enough vitamins and nutrients through the food you eat.
If a sleeker shape, more energy and clearer skin sounds appealing, stock up on organic, fresh foods. Many experts advise avoiding foods that have never swum, flown or been grown!
While most of us will benefit from some form of detox diet, however mild, there are some groups of people who should only undertake a detox plan under medical supervision. If you suffer from any of the following, be sure to seek medical advice before you begin:
Eating disorders
High blood pressure or cholesterol
Genetic illness
Terminal illness
Kidney problems
Anaemia
HIV/AIDS
Thyroid illness
Cancer
If you are pregnant, breast feeding or under sixteen years old, it is not advisable to begin a detox diet. Even if you feel pretty fit and healthy, it's well worth having a chat to your doctor before you begin a detox that will significantly change your diet.
You might also like...