When Should I Detox?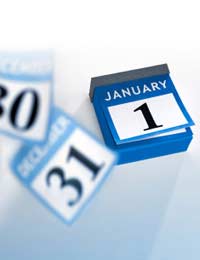 The best time to follow a healthy eating and exercise regime is obviously always, but for many of us that's a lot easier said than done. If you feel that your body could do with a pick-me-up, schedule some 'me' time and remember that your health and wellbeing should always be your primary concern.
Off Colour
If you feel tired, headachy or generally unwell for a while, it's likely that your body is trying to tell you something. Long hours, stress, convenience meals and a hectic social calendar all take a toll on our systems. A detox will help to purge your body of toxins from food additives and pesticides, alcohol and a poor diet, also leaving you better able to process future waste from the inside. The physical benefits can be numerous – think more energy, a healthier body and a renewed zest for life!
New Year, New You
One of the most popular times to begin a detox must surely be January. On Christmas Day alone, many of us ingest a whopping seven thousand calories, many of them, one suspects, from alcohol. Coupled with Christmas parties and more than the odd mince pie, your body will probably be feeling as bleak as the January weather. New Year is a fantastic time to resolve to treat your body better, and what greater way to begin than with a good, healthy detox.
Wine Down
Another great time to give your body a deep clean with a detox is after a period of regular, or excessive drinking. The after effects of a drinking binge are all too obvious, but it's also a good idea to take a break from your nightly tipple to allow your system to eliminate a toxin build-up. Watch how your body reacts over a period of time – many people report greater mental alertness and glowing skin.
Hey, Good Looking!
If you need to look and feel great for a special occasion, a detox will get your body in tip-top condition for any big day, bringing radiance to skin and hair and putting a twinkle in your eyes. At the beginning of a detox you may feel a little below par while your body begins to cleanse itself from the inside out, time yours wisely to ensure you look fabulous, rather than fatigued, on the big day.
Bikini Beautiful
Before a holiday is an excellent time to detox, since you are likely to lose weight, and, if you're able to fit some exercise into your detox plan, you'll tone up too. Being kind to your body before you hit the beach means that not only will you look great for your break, but also that having one too many cocktails will take less of a toll on to your system.
Whether you embark upon on a strict detox plan, or simply swap those ready meals for more exercise, vitamins and nutrients, the best time to detox is whenever you feel the need. Our modern lifestyles can wreak havoc on our systems, leaving us internally sluggish and congested. Investing some time in a detox is a great way to clean, clear and bring balance back to your body.
You might also like...